Can Employers Implement Mandatory Vaccinations?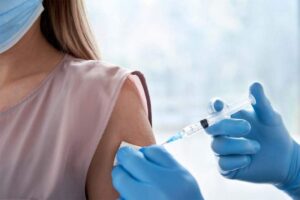 We are no strangers to the ethical complexities that arise when managing competing duties, rights, and interests.
Unfortunately, amid a global pandemic, we see many Australian employers and employees across all professions struggling with this challenge. How different workplaces choose to adapt to living with COVID-19 will be on a case-by-case basis.
On a global scale we have seen a major rise in mandatory vaccinations, resulting in job losses and restraints on access to specific venues and businesses for those who have not been vaccinated.
This article explores the circumstances where mandatory COVID-19 vaccination may be lawful and reasonable, the rights and duties of employers and employees and analyses previous legal commentary on mandatory vaccinations for influenza.
An Ethical Conflict of Interests
To determine whether mandatory COVID-19 vaccinations in your workplace could be permissible in the eyes of the law, it is important to understand the completing duties employers must balance with the rights of employees.
For example, under workplace health and safety (WHS) law, employers have a duty to provide a safe working environment for all employees. This includes identifying, assessing, managing and/or eliminating, risks that may cause harm in the workplace.
Workers also have duties under WHS law to care for their own health and safety, take care to ensure their acts or omissions don't impede on the health and safety of others, and comply with the health and safety instructions, policies and procedures mandated by their employer.
Many employers are identifying the health and safety risks that come with COVID-19 for all stakeholders. A way to manage this risk and provide a safe work environment for all staff and clients/customers, has already in some workplaces resulted in policy that enforces mandatory vaccinations.
The Australian Government has announced that residential aged care workers, volunteers and students are required to have their first dose of a COVID-19 vaccine by the 17th of September 2021. It is likely that other workplaces with a primary duty to people in COVID-19 high-risk categories will follow suit.
For the most part, COVID-19 vaccinations remain voluntary and free, and employees have the right to choose whether they would like to be vaccinated. In a workplace setting the nature of the work as well as the individual circumstances of the employee will be considered. There are situations where people will have medical conditions that prevent or impede on their eligibility for vaccinations.
It is therefore important that employers are cautious not to indirectly discriminate when there is a valid exemption in place, unless it would impose unjustifiable hardship on the employer.  It is also important that employers are cautious around protecting their employees privacy when collecting and retaining information around vaccinations.
Along with general caution around discrimination and privacy laws, there is also rhetoric around the risk that mandating vaccines creates for human rights, as discussed by the Human Rights Law Centre. For example, the right not to be subjected to medical treatment without consent, the right to equality and non-discrimination, the right to privacy and freedom of religion.
In situations that restrict human rights there is a question as to whether a mandatory vaccine is reasonable and no more restrictive than necessary to achieve a legitimate purpose. The Human Rights Law Centre has warned against broadly mandating the COVID-19 vaccine and recognised the need to consider exceptions for people with genuine health or religious reasons.
Case Commentary
Reasonableness is key. There is no blanket law that requires a person to be vaccinated and we know that it is important to determine, on a case-by-case basis, what rights and duties carry the most weight and reasonableness in the circumstances.
The nature of the business and the responsibilities of the employees speaks to the employer's ability to create a policy or employment contract in which vaccinations are mandatory. Aside from the nature of the work and the individual circumstances of the employee, other reasonable considerations may be the availability of the vaccine, the current health orders in place, and whether remote working arrangements are available and viable.
It is also reasonable to consider the detrimental impacts of business 'lockdown' because of COVID-19 transmission in the workplace.
The courts approach to mandatory COVID-19 vaccinations and their implementation in workplace policy, may be similar to that of recent cases from the Australian Fair Work Commission (FWC) concerning the dismissal of employees after they refused to get their mandatory immunizations against influenza.
In Jenifer Kimber v Sapphire Coast Community Aged Care Ltd [2021] FWC 1818, Ms Kimber, a receptionist at the aged care facility, refused her vaccination, as she claimed that the vaccination had previously caused her an allergic reaction. The direction was in place from her employer, as there was a public health order prohibiting persons without a current flu vaccine, to enter aged care facilities. As Ms Kimber was unable to fulfill the inherent requirements of her role she was dismissed. The FWC found that the dismissal was not harsh, unjust, or unreasonable. Expert evidence was provided, and accepted by the FWC, to state that the allergic reaction was not a likely result of the vaccination.
In Nicole Maree Arnold v Goodstart Early Learning Limited t/a Goodstart Early Leaning [2020] FWC 6083, Ms Arnold was terminated from employment for failing to follow lawful and reasonable direction, as she refused to have her flu vaccination. Goodstart issued a direction to all employees making influenza vaccinations free and mandatory. The direction made exemptions on medical grounds, however this was not applicable to Ms Arnold, who was arguing that reasonable accommodation and adjustments should have been made for her. The FWC discussed that accommodation should not have been made as accommodation was not being sought on reasonable grounds. The FWC stated that the vaccination policy of Goodstart was lawful and reasonable in the context of its operation, being the care of children, including children who are too young to be vaccinated or unable to be vaccinated.
The case of Maria Corazan Glover v Ozcare [2021] FWC 231 held that the direction for mandatory vaccination against influenza constituted a lawful direction that was not inherently discriminatory.
These cases provide an overview of the legal considerations that are likely to be considered in the context of mandatory COVID-19 vaccinations, especially in high-risk industries like aged care and childcare.
Consideration is likely to be given to:
The type of workplace
Considering whether the direction is lawful and reasonable in the circumstances
The inherent requirements of the role
The duty of the employer to keep the workplace safe and eliminate or minimize the risks posed by COVID-19
AHPRA Position Statement
The Australian Health Practitioners Regulation Agency (AHPRA) released a position statement whereby all registered health practitioners and students were strongly encouraged to have a full course of a COVID-19 vaccination (unless medically exempt).
AHPRA noted that 'all practitioners, including students on placement, must comply with local employer, health service or health department policies, procedures and guidelines relating to COVID-19 vaccination' (AHPRA position statement 9 March 2021).
It was also stated that registered health practitioners were expected to provide accurate information and advice on the COVID-19 vaccination including in social media and advertising.
The statement discussed 'conscientious objection' whereby if a practitioner has a contentious objection about the COVID-19 vaccination they must advise their employer, relevant colleagues, and, their patients/clients if the objection is relevant to their treatment or care.
AHPRA warns practitioners to be careful not to discourage patients/clients from getting the vaccine, both in person and through social media.
Are Mandatory Vaccinations Lawful?
Considering the duties of employers and the precedents commentating on reasonableness, it is likely that for a significant number of workplaces, it will be lawful and reasonable for employers to implement mandatory vaccinations.
This should be handled with caution, as a direction for mandatory vaccination must be within the scope of an employee's duties and account for specific exemptions that may apply for some employees.
If on the facts of the case, the direction for mandatory vaccination was lawful and reasonable, termination of an employee for refusing to comply may be justified. However, there may also be grounds for rebuttal, and a potential for a rise in unfair dismissal claims, if there is not enough evidence to support the direction as being reasonable.
We Can Help
At Potts Lawyers, our litigation team have a range of experience in employment law.
If you require advice as to the operation of policies and procedures within your workplace, the conduct of employers/employees, or advice on unfair dismissal, as call us on 07 5532 3133 or submit an enquiry on our website.
Research
https://www.allens.com.au/insights-news/insights/2021/06/fwc-upholds-mandatory-jab-again/#anchor3
https://www.tglaw.com.au/employment-blog/2021/04/26/fair-work-commission-hands-decision-compulsory-vaccination/
https://www.mondaq.com/australia/health-safety/1106394/the-case-for-mandatory-workplace-vaccinations-in-australia
https://humanrights.gov.au/about/covid19-and-human-rights/covid-19-vaccinations-and-federal-discrimination-law
https://www.lawyersweekly.com.au/biglaw/32260-legal-body-warns-against-broadly-mandating-vaccine
https://www.lawyersweekly.com.au/biglaw/32150-how-auslaw-can-respond-to-national-cabinet-s-guidance-on-workplace-vaccines
https://www.lawyersweekly.com.au/biglaw/32277-factors-to-consider-with-vaccine-mandates
https://www.clydeco.com/en/insights/2021/02/no-jab-no-work-can-employers-lawfully-request-that