Queensland Magistrates Court FAQs
Written by Criminal Lawyer Cameron Browne.
This article explains all of the must know information and answers the most frequently asked questions when attending a Magistrates Court in Queensland.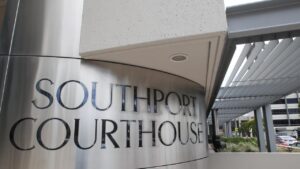 What time do I need to attend the Queensland Magistrates Court?
If you have received a notice to appear or signed a bail undertaking, you should attend at the time set out on that document, unless advised otherwise by a lawyer you have engaged.
If your case has previously been adjourned off to another day, it is unlikely you will have a fresh notice to appear or bail undertaking.  The vast majority of days in the Queensland Magistrates Court commence at 9am, so unless you have been given a specific time by the Court, it would be safest on these subsequent dates to arrive before 9am.
What do I do when I get to the Magistrates Court?
Unless you have engaged a lawyer, the best first step is to speak to one of three types of people.
The first type of person is a police prosecutor.  In almost all cases, one of them has been assigned to each Court that is operating.
Alternatively, if there is not a police prosecutor present, there may be a lawyer from the Office of the Director of Public Prosecutions ("the DPP") who is appearing that day.  You should let them know you are present, just as you would the police prosecutor.
Another option is speaking to a volunteer who is assisting the Court, or the police prosecutor.  They are often standing in a hall outside the Court and can point you in the right direction.  Not every Courtroom will have a volunteer though.
If you are still stuck, Courts will have a registry operating. If you approach them at the counter, they will be able to direct you.  Sometimes the prosecution is represented by a different government department than the police or the DPP.  The registry should be able to tell you where they are in the building on that day.
As far as the question of which Courtroom is concerned, many Courts have a list (in paper or on a digital screen) posted inside that lists people's names and the room they should go to.  Again, the registry should be able to help if a list has not been put up.
How long will I be waiting in Court?
This is an important question for most people, particularly when considerations relating to work or children are involved.
The answer is greatly dependent on what style of Court proceeding you are there for, and how busy the Magistrate is on that particular day.
For example, a hearing at which some part of the prosecution case is being challenged or explored can take a very long time.  Alternatively short pleas of guilty may see a person's matter resolved by lunchtime.
Your best bet is to ask the prosecutor who you speak to at the outset.  They may be able to assist.
A key advantage of being represented by a lawyer is that in almost all circumstances their client's cases are dealt with first.  They are also in an excellent position to provide you with a time estimate.
What do I wear to Court?
This question is covered in detail elsewhere on our site – What should I wear to court? – Potts Lawyers
The short answer is wear clothing that you would wear to a job interview.
Your goals is to dress in a way that shows you respect the Court process.
Again, feel free to read our lengthy explanation as referred to above.
Will my case finish on the first date I'm required to attend Court?
This depends greatly on a number of factors, but two of the most important are:
Whether you are pleading guilty or not guilty;
Whether the plea of guilty that you've entered can be dealt with by a sentence at the Magistrates Court level.
With respect to item 2, there are certain types of charges that can only be finalized in higher courts, namely the District Court or Supreme Court.  If a person has been charged with such an offence and wants to plead guilty, the Magistrate will not be able to sentence them (i.e. hand down a penalty) and the case will have to go through a process to get to the higher Court.
Similarly, if a person wishes to plead not guilty and go to trial on one of these charges that needs to finish in the higher Court, they will have to go through a process to move the matter through the Magistrates Court to this other jurisdiction.
If the charge is one that can be finalized in the Magistrates Court by a plea of not guilty, it will not finish on that first Court date as a general rule.  When the Court is informed that a person is pleading not guilty to a charge of this type at the first appearance, it will be adjourned off to a later date.
Having said all of that, if a person is pleading guilty to a charge that a Magistrate can finalize, it is not uncommon for the sentence to be deal with there and then.  Whether this can happen will depend on a few factors, such as the length of time it will take for this procedure to occur – i.e. sometimes the Court will adjourn lengthier pleas of guilty off to a later date.
Whatever decision you make, it is very important that you get legal advice in advance regarding your options and the consequences of your decisions.
Need A Lawyer?
If you are in need of legal advice, please contact us on (07) 5532 3133 for our Gold Coast Law Firm or (07) 3221 4999 for our Brisbane Law Office.