Search Warrants
Written By Mark Williams – Criminal Lawyer
The Police Powers and Responsibilities Act 2000 (Qld) gives police officers power to act in ways in which the law allows.
In Queensland, there are two main warrants:
Arrest Warrants
Search Warrants
This article relates to search warrants only. View our article on arrest warrants here.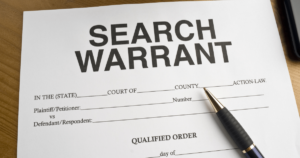 Search Warrants
Under the Police Powers and Responsibilities Act 2000 ('PPRA'), there are multiple ways in which police can search a person, that person's house and/or their vehicle. They may do so with or without a warrant. There are strict conditions in which a police officer must abide by when searching a person or their property with and more so without a warrant.
Searches can be a tricky area of law, and if a search is done without a warrant, it can lead to that evidence being inadmissible in a court and ultimately the charge can be dismissed. This is not always the case, but the police must take certain steps before searching you or your property.
If you or someone you known has been searched by police, we strongly encourage you to get legal advice as soon as possible. One of our expert criminal lawyers will be able to assist you in understanding whether the search the police conducted was lawful.
What is a Search Warrant?
Under section 150 of the PPRA, police can apply to a justice (typically a justice of the peace) for a search warrant. There are specific situations in which an officer must apply to a Magistrate or Judge.
The police officer who applies for the search warrant must have some grounds for doing so. Those situations can be:
Police have received information that an offence has occurred, or is occurring at the property;
The police observed an offence occurring;
The police receive a complaint from the victim of the crime
In their application to the justice, Magistrate or Judge, the police must be specific as to what it is that the Police are looking for.
The police may be making an unlawful search if they have a search warrant but do not specify what it is that they are looking for.
What Does it Mean when a police officer 'executes' a search warrant?
Once the police officer applies for a search warrant and they are successful, they may then 'execute' the search warrant on the property, vehicle, or person.
Execute means to use the search warrant to search a property, vehicle or person.
Can a police officer search me, my house or my car without a warrant?
Only in a select few situations can a Police officer search you without a warrant.
A police officer can bypass the need for a search warrant if:
The person being searched has a weapon or other prescribed item, including illegal drugs;
A vehicle is being used unlawfully;
There are items in a vehicle which are illegal;
The police officer has reasonable suspicion that there might be items in the car, on your person, or in the house, that could amount to an indictable offence.
The police can also apply for a warrant after the search has been conducted. These are called post-search warrants.
You should always get legal advice if the police wish to conduct a search of your person, car or house without a warrant. Police have very strict guidelines to follow if they conduct a search without a warrant.
Do I have to say anything to police when Police execute a search warrant on me?
When police execute a search warrant on you, your property or your vehicle, the police will ask you if you wish to say anything or answer their questions.
We remind you that you have the right to silence. You do NOT have to answer any of their questions.
If the police are asking if you wish to answer any questions or say anything, we strongly encourage you to contact us immediately.
We can provide you with on-the-spot advice to ensure that you do not negatively impact your position.
What can the Police take when they search me or my property?
This is often referred to as "seizing property".
Typically, the search warrant will specify what items they are looking for. This can be, for example:
Mobile Phones;
Computers;
Laptops;
Illegal drugs, substances or chemicals;
Weapons;
Cash; or
The above list is not exhaustive, there are various other items which a police officer can seize. We have listed the most common items above.
When will I get my property back if the police seize it?
This question is answered by the reason as to why police took your property.
Police can seize your property for a number of reasons. Each of those reasons each have different answers for how long the police can seize your property. It may be because your property is the evidence of a crime. It may be because your property is subject to a law that requires the police to seize the property, such as vehicle impoundment.
Should I get legal advice if the police wish to search my property?
You should know where you stand when police wish to search your property. We can advise you on your rights when it comes to search warrants.
Contact us today to arrange a consultation with one of our expert criminal lawyers.