Ashleigh DoRozario receives commendation from Governor of Queensland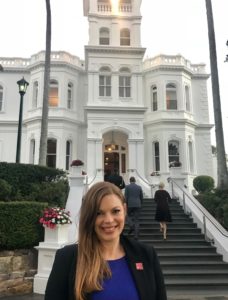 A big congratulations to our litigation team member,  Ashleigh DoRozario.  Last night Ashleigh was honoured at Government House and named one of the 60 most influential people in the 60 year history of MS Queensland.
This is the second commendation Ashleigh has received from His Excellency The Honourable Paul de Jersey AC, Governor of Queensland, having previously been named MS Queensland Young Person of The Year.
Ashleigh was diagnosed with an MS-related disease in 2009 and despite becoming legally blind due to the condition, she continues to work at Potts Lawyers and is now entering the final year of her law degree, which she is studying part-time.
In a message to Ashleigh, the Chairman of MS Queensland, Mr Roger Burrell, said:
'On behalf of the Board of MS Queensland, thank you for your dedication and support that has contributed to MS Queensland's success over our proud 60-year history of supporting people living with MS to get the best out of life, advocating for change and searching for a cure.'
The recognition of Ashleigh as one of the 60 most influential people in the history of MS Queensland is a testament to the example she sets as someone living with MS and her fundraising efforts throughout the years aimed at funding research into finding a cure for multiple sclerosis.
We are very proud that Ashleigh is part of the Potts Lawyers team.