Firepower Extortion Charges Dropped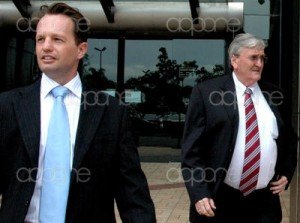 Perth real estate agent and pigeon enthusiast, Maxwell Raymond Healy (right), 62, and his solicitor Mark Williams (left) leave Southport Magistrates Court on the Gold Coast on Monday, Nov. 1, 2010.
Healy had an extortion charge dropped against him after he was accused of trying to extort $200,000 from Firepower chief Tim Johnson following the company's $100 million collapse. Clip & Image – (AAP Image/Lisa Martin)
Firepower extortion charges dropped
Leah Fineran   |  November 1st, 2010 | Gold Coast Bulletin
A PERTH real estate agent has been ordered to stay away from failed Firepower chief Tim Johnston after an extortion case against him was dropped this morning.
After three hours of legal discussion behind closed doors, police dropped the charge against West Australian Maxwell Raymond Healy, 62, for allegedly fabricating a death threat against Mr Johnston and offering him a $200,000 protection deal.
Mr Johnston allegedly received letters at his Gold Coast home warning him that a $500,000 contract had been taken out on his and his wife's life.
Mr Healy, a known pigeon importer, was charged with allegedly approaching Mr Johnston using a pseudonym and offering to 'take care' of the contract for a $200,000 fee.
The alleged extortion attempt came shortly after the $100m collapse of Mr Johnston's alternative fuel company Firepower.
Prosecuting Sergeant Peta Eyschen said police offered no evidence to the charge but requested a two-year restraining order preventing Mr Healy from having any direct or indirect contact with Mr Johnston.
Magistrate Brian Kilmartin consented to the order.
Mr Healy was represented in court by barrister Tony Kimmins and Potts Lawyers solicitor Mark Williams from Potts Lawyers.
Outside court, Mr Healy said the dropped charge was 'a relief' and he intended to return home to WA.