Coast 'Mrs Big' Denied Bail
Leah Fineran   |  July 9th, 2010 | Gold Coast Bulletin | www.goldcoastbulletin.com.au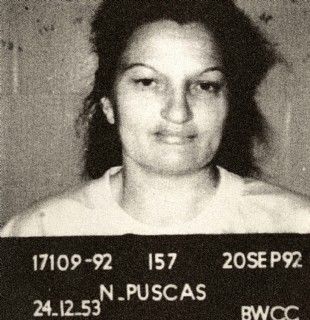 A CONVICTED drug trafficker once dubbed the 'Mrs Big of the drug world' is back behind bars after being denied bail on fresh drug allegations.
Nana Puscas, 57, was arrested on Wednesday after a police raid netted almost half a kilogram of heroin at her Ormeau Road home.
Police also arrested 52-year-old Nicolae Tufis from NSW, who they allege was restocking her supplies.
Both suspects have been charged with trafficking, supplying and possessing a dangerous drug.
It was a similar scene to 16 years ago when Puscas was sentenced on drug charges.
In 1994 she was sentenced to a record 20-year jail term for trafficking heroin after a covert police operation nabbed her and defacto husband, Frank Onea.
The former Romanian refugees, who were dubbed the 'Mr and Mrs Bigs' of the state drug scene, were both jailed for selling 211g of pure heroin with a street value of almost $600,000.
Puscas pleaded guilty to the charges.
At Onea's trial the court was told the couple lived the high life on the Gold Coast, simultaneously running a Southport restaurant, The Blue Danube, and one of Queensland's biggest heroin drug operations.
Their world collapsed in September 1992 when they were arrested by police who were led to stashes of heroin buried in a Runaway Bay park.
Puscas was released after five years and has been on parole since, until her arrest on Wednesday.
Yesterday the court was told the raid on her Ormeau home came after six months of covert surveillance by local and state detectives in Operation Ice Allergy.
Police alleged Puscas was a known heroin trafficker in the region, with clients in Brisbane and on the Gold Coast, and that Tufis was her interstate supplier.
In the raid, police allegedly found 112.4g of heroin in a black camera case in Tufis's pocket and $140,000 in cash and 325.5g of heroin in Puscas's cupboard.
Police prosecutor Senior Constable Myee Arandale said Puscas volunteered the drugs' hiding spot when questioned by police.
The court was told Puscas admitted during a recorded interview that she had been supplying three regular customers and sourcing drugs from Tufis for six months.
Potts Lawyers solicitor Mark Williams sought bail for Puscas and Tufis and argued the evidence had not been established as the substances had yet to be tested.
His applications were strongly opposed by Sen-Constable Arandale who cited Puscas's history and parole breach.
Sen-Constable Arandale said both were an unacceptable risk of flight and reoffending if granted bail.
Magistrate Dean Wilkinson refused bail for both defendants and remanded them in custody until a committal hearing in Southport on February 7, 2011.