Ashleigh DoRozario to discuss the need for an accessibility liaison in Queensland Courts with the Attorney-General
Potts Lawyers is pleased to announce that Ashleigh DoRozario, a fierce advocate in the disability awareness space, recently met with the Attorney-General, the Honourable Shannon Fentiman MP to discuss the need for an accessibility liaison in Queensland Courts.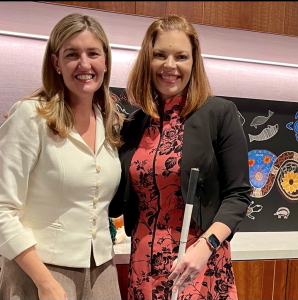 Ashleigh became aware that there was a gap in the Queensland Courts where solicitors, witnesses, jurors, clients and the like who have a disability felt they couldn't properly engage with our court systems or judges to allow a 'fair go'.
There were challenges for those with disabilities to get in contact with the Judge or Magistrate to explain that their disability may require the use of assistive technology, or preclude them from picking up on non-verbal cues or the like.  Judges and Magistrates, when aware, are always very willing to comply with the reasonable adjustments requested – but getting the message to them in time was the real challenge.
Ashleigh put together submissions and through the course of their discussions, the AG and Ashleigh came to the realisation that the creation of an accessibility liaison role would solve many of these issues.  One central person who can easily act at the go between.
The AG sprang into action and together with her policy advisor the creation of a role for someone to be the accessibility liaison in Queensland Courts began evolving.
Considering 20% of Queenslanders have a disability, that's 1 in 5 Queenslanders with an impairment, it made complete sense for the creation of this role to better facilitate the participation and inclusion of people with disability in our court system.
Thanks to Ashleigh and Attorney-General Shannon Fentiman we can look forward to that essential role being available within the Queensland Courts soon.
---
Meet Ashleigh Dorozario
Ashleigh is a litigation lawyer at Potts Lawyers, who is legally blind.
She has considerable knowledge in dispute resolution with a focus on insurance and compensation law, including significant experience in an array of complex matters arising from general public liability incidents, motor vehicle and workplace accidents, together with coronial inquest matters involving alleged medical negligence. 
Since 2004, Ashleigh has gained immeasurable experience within the legal industry, having previously worked at two top tier law firms in Australia, before relocating to the Gold Coast and joining our team. 
For over a decade, Ashleigh has worked under the mentorship of litigation director, Craig DoRozario, attaining a wealth of experience in a wide range of civil litigation and dispute resolution matters.  
Since joining Potts Lawyers, Ashleigh has developed further skills in civil litigation matters involving general contractual and debt recovery disputes, white collar crime and confiscation injunction proceedings, defamation actions, workplace investigations, professional negligence and occupational disciplinary proceedings, as well as discrimination, human rights and disability advocacy.
Awarded a Bachelor of Laws with Distinction, Ashleigh is admitted as a legal practitioner of the Supreme Court of Queensland and the High Court of Australia.